South Sudan Commemorate International Day of Nurses and Midwives
Posted on: 2023-05-17. Maidodo Juma Maidodo 17/May/2023 Juba.
---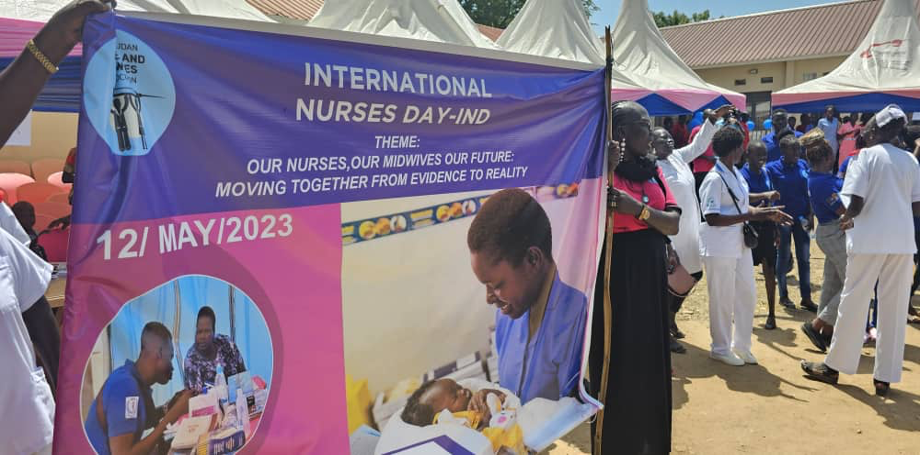 South Sudan Nurse and Midwife association on 12th May, 2023, commemorated the international nurse and midwife day under the theme "Our Nurses, Our midwives, our future"
Speaking to the cheerful Nurses and Midwives and health science students, the Undersecretary in the National Ministry of Health Dr. Victoria Anib Majur said "Nurses and midwives are important assets of the health care delivery system. adding that "without well-trained nurses/midwives, we won't reduce maternal morbidity".
The Undersecretary thanked the South Sudan Nurses, Midwives association and partners for ensuring that the Nurses and Midwives in South Sudan are valued as an important asset to the health sector.
"I want to thank SSANAMA and partners for making sure Nurses and midwives are recognized and are placed at the heart of the health sector in South Sudan in providing quality health care" Said Dr. Anib.
On his part, the Chairperson of the South Sudan Nurses and midwife's association Mr. Repent Khamis said its important awareness is intensified on the important roles Nurses and Midwives play in health care system setup.
"Awareness of public on important roles nurses and midwives play in health care provisions is very crucial in the health sector setup" Mr. Khamis told Nurses and Midwives at El Sabah hospital.
UNFPA's representative during the occasion Dr. Hassen said Nurses and midwives are the foundation of health care system who care for the sick in the hospitals and communities and open work under severe pressure and harsh conditions. Adding that the Journey from evidence to results begins with a strong foundation in education. Investing in education of nurses/midwives empowers and ensures evidence-based service delivery.
The International Nurses Day is observed on May 12 each year to honor the birth anniversary of Florence Nightingale, the founder of modern nursing. It serves as a reminder of the crucial role nurses play in the healthcare industry, highlighting their significance alongside doctors. The day emphasizes the importance of showing equal respect to nurses worldwide and encourages people to express their gratitude towards these brave and hardworking professionals.
This year's commemoration was held at El Sabah hospital and brought together MoH leadership, health partners, Student Nurses and Midwives.
free porn videos
free sex videos