Ministry of Health Inaugurates Gudele General Hospital in Juba
Posted on: 2023-10-21. By; Maidodo Juma Maidodo
---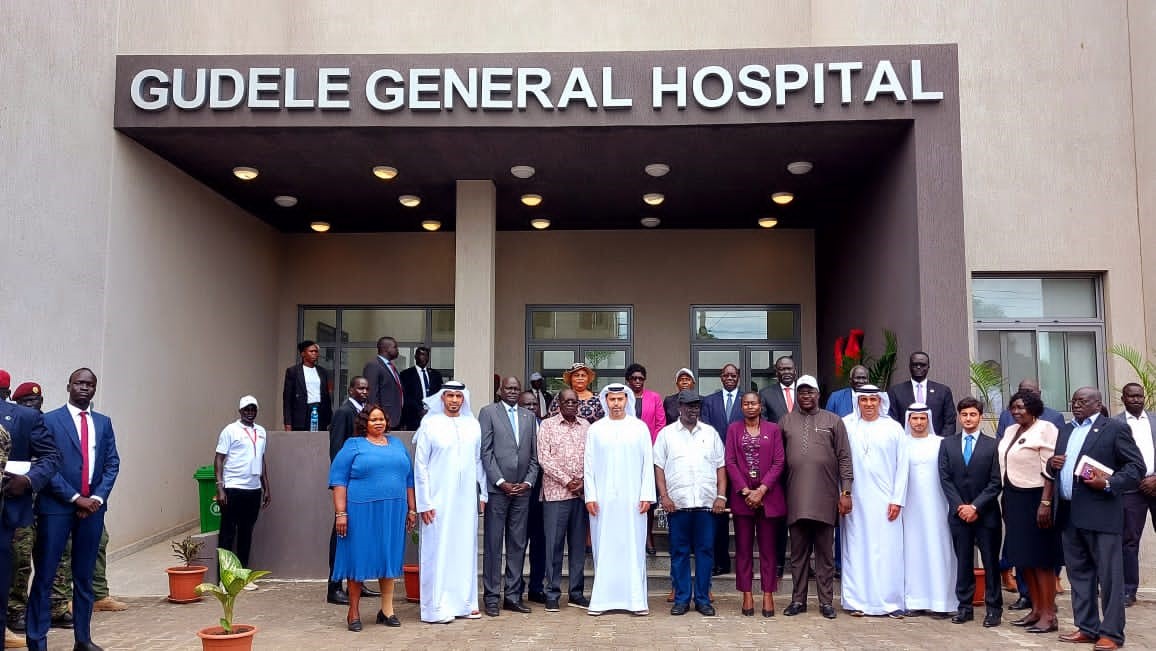 21st October, 2023, Juba South Sudan - National Ministry of Health has inaugurates the Gudele General Hospital.
---
The National Ministry of Health has inaugurated the Gudele General Hospital, a new state-of-the-art healthcare facility that aims to end expensive medication outside of South Sudan.
The inauguration was graced by the Vice President for Service Cluster, H.E. Hussein Abdelbagi Akol, and Minister of Health, Hon. Yolanda Awel Deng Juac, and attended by the Abu Dhabi Fund for Development (ADFD) delegation led by H.E. Khalifa Al-Qubaisi. The Ministers of Presidential Affairs, Interior, Roads and Bridges, Environment and Forestry, and the Governor of Central Equatoria State were among other senior government officials in attendance.
Speaking at the commissioning ceremony, the national Minister of Health, Hon. Yolanda Awel Juach, said the new health facility will provide highly specialized health care to the community, offer job opportunities, and provide capacity building for South Sudanese health professionals adding that the hospital has recruited top-notch team of doctors and nurses with various specialties who are mostly South Sudanese. Minister Awel added that Gudele General Hospital will provide quality health care to the people who are used to seeking treatment abroad. Hon. Awel Further reaffirms her ministry's commitment to ensuring the provision of advanced treatment and quality health care within the country.
Central equatorial, Honorable Emmanuel Adil Anthony, expressed his state government's willingness to avail more land for such investments encouraging investors to invest across the country in various fields.
Abu Dhabi Fund for Development head of delegation H.E. Khalifa Al Qubaisi emphasized the UAE's commitment to strengthening relations with the Government of South Sudan through ADFD and expanding cooperation in various development and economic sectors.
The Vice President for Service Cluster, H.E. Hussein Abdelbagi commended the UAE government for their generosity and support to the people of South Sudan. He further requested the Central Equatoria State government to continue to cooperate with investors by providing land for investments.
As South Sudan is enjoying relevant peace, the Health Ministry is working on all fronts to improve the health system across the country after most of the health system is ravaged by poor access to health services.
The AED36.73 million (US$10 million) hospital project was funded by ADFD from a UAE development grant with an aim to support and enhance the healthcare sector in South Sudan by establishing a 60-bed hospital containing modern equipment to meet the needs of the citizens in and around the capital, Juba. Gudule Hospital has modern laboratories, clinics, and specialized departments, which include surgical facilities, and emergency and intensive care units. It also has administrative offices for hospital staff and general amenities for visitors.
Indian Porn Girl Videos
Indian Porn